Download Press Kit with release note and screenshots from this link.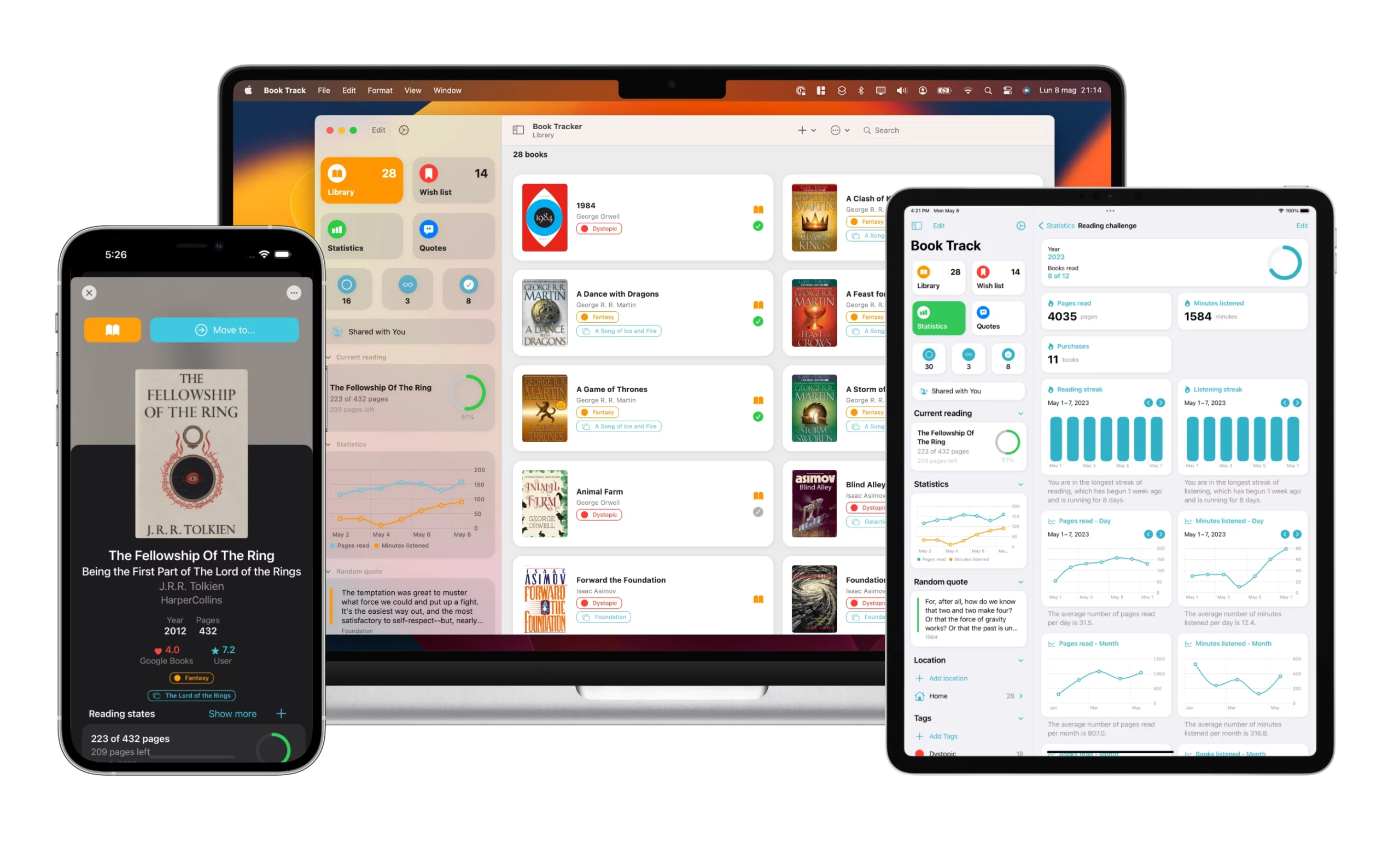 Book Tracker
Book Tracker – Bookshelf log is a privacy focus app for iOS, iPadOS and macOS that allows you to catalog your library and manage a wish list of the books you want to buy. For each book you can keep track of your reading progress, save your favorite quotes and manage their physical location by specifying the location, library and shelf.
It's easy to keep your library organized thanks to the ability to use tags and series. You can set annual reading challenge and have a look at the stats and trend to stay motivated and reach your reading goal.
Technologies used:
iCloud to sync the library across all the devices
OCR for import quotes from books using VisionKit
Lock Screen and Home Screen Widgets to have reading progress and statistics at your fingertips
Support to advanced Shortcuts
Shared with You to share link with friends with iMessage and see them in the app
Meet Book Tracker 3.1.0
WHAT'S NEW:
The home screen (iPhone) and sidebar (iPad and Mac) have been overhauled to have at your fingertips your reading statistics, the books you are reading, and your quotes
The ability to be able to track multiple readings of the same book has been added – It is now possible to enter reading progress without specifying the date
Added audiobook listening tracking
Check audiobook statistics inside the "Statistics" section
Revised and improved book details and insertion/editing pages
Added the ability to enter more than one note to a book
Added the ability to leave a rating for each book
New Shortcuts have been added to be able to manage quotes, notes, ratings and more – When adding a new quote you can also enter the page number of the book
Added Widgets to have random hourly quotes from all books
When entering a location, bookshelf and shelf will no longer be mandatory but you will be able to enter only the location
New screens to create or edit tags, series, categories, publishers, authors, etc.
IMPROVEMENTS:
The search bar will be visible by default when accessing the book list and a scroll down is no longer required
More than one language can be selected for each book (for books written in multiple languages)
You can define more than one type of book owned (e.g., whether you own softcover, hardcover, audiobook, or ebook copies)
Improvements to the filter entry page, which now allows you to choose filters in AND and OR – You can see the number of books contained within a section
Improvements to the management of loaned books
Improvements to entering a book location
General improvements to app performance
Book Tracker 3.1.0 will be available on May 24, 2023 at 4 pm GMT. The app can be downloaded from the App Store for free with a limit of 5 books that's possible to manage. A single In-App purchase permits to unlock all the features for $10.99 on iOS and 15.99$ on macOS.